El Salvador Mission Trips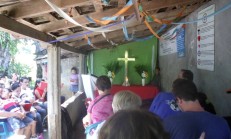 Lynn Larsen from our congregation has participated in two mission trips to El Salvador in 2014 and one each in 2015 and 2016.
In February 2014, 2015 and 2016, he served with others from around the USA as a volunteer for Eye Care International. A Facebook link to that organization is https://www.facebook.com/pages/Eye-Care-International-El-Salvador/163391223765260. The website is http://www.eyecarint.org.
Photos, left to right: top row – Fitting prescription glasses, optician examination, Lynn with a near-vision screening patient; bottom row – distance vision screening, registration line, cataract surgery.
In August 2014, he joined a delegation from the Metro-DC Synod on its "Accompaniment" journey to El Salvador to visit and worship with sister congregations in that country. The Lutheran Church in El Salvador is a sister synod to the Metro-DC Synod. The visit included participation with three other ELCA synods and congregations throughout El Salvador in an annual procession and ceremony to celebrate the anniversary (28th) of the Lutheran Church in El Salvador as a national church. The delegation published a blog about their trip: http://2014metrodcelsalvadormissiontrip.blogspot.com.
Photos: top row left to right – chapel altar where Archbishop Oscar Romero was assassinated in 1980, chapel at the Univ. of Central Am. (UCA) dedicated to Oscar Romero and near to the UCA residence where the 6 Jesuit priests were assassinated in 1989, youth group at one church we visited (Iglesia de Rios de Agua Viva); bottom – our delegation in the procession celebrating the 28th anniversary of the El Salvador Lutheran Church as a national body.
The featured image for this post is a worship service at Iglesia Nueva Esperanza. Our delegation was seated on the porch of a congregation leader's house, and the the local congregation was seated in the sunshine in the yard.