Meet Our New Synod Bishop Bill Gohl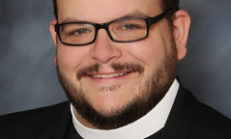 Rev. Gohl was elected as our new Synod Bishop on June 4th of this year, and installed into Office at Evangelical Lutheran Church in Frederick, MD on October 9 by Presiding Bishop Elizabeth Eaton.
Education:  He has a BA from Gettysburg College and a Master of Divinity from the Lutheran Theological Seminary at Gettysburg.  He is currently pursuing a Doctor of Ministry at Lutheran Theological Seminary in Philadelphia.
Congregations:       Peace Lutheran in Glen Burnie  2000-2007, Epiphany Lutheran in Baltimore 2007-2016
Family:    Married to Arwyn Gohl of Jerusalem Lutheran Church in Baltimore.  Children  Saliese age 16, David age 15, Andrew age 13 and Joyanne age 8.
Most Joyful Parts of Ministry:  Working with small groups of disciples in areas needing renewal and revival of ministries.   Celebrating the gift of baptism for children and young adults
Synod's Greatest Strengths:   Strong Council Leadership, "Vision 2018", Campus ministries, Lutheran Community Services, youth and family ministries,
Synod's Challenges:    Congregational Health, fostering a sense of connection with our synod at large and ELCA.
Plans for First 100 Days in Office:    Shape 2017 agenda from planned visits with rostered leaders in the 11 conferences, October retreats with Synod Council, deans and rostered leaders, November calls for new staff leadership.
Bishop Gohl will be preaching at a workshop series on November 5th at St. Paul's Lutheran Church in Aberdeen, MD.  The theme for this Saturday event is "Disciples Together"  Please come join with neighboring ELCA congregants to hear Bishop Gohl and participate in two of four offered workshops.